The September WN Connect in Istanbul gathered 151 guests. 70% of them were representatives of Turkish companies
On September 6, the sixth Turkish event of WN Media Group took place on the shores of the Bosphorus. This time it's a chamber WN Connect. It was attended by 151 people from 106 gaming or industry-related companies.
Most of the companies registered at the event are development studios (54%). There were significantly fewer publishers (23%), platforms (23%) and various advertising services (22%). Exactly 10% of the firms represented were investor-owned.
Distribution of participating companies by specialization (one company may have several specializations)
Important: the absolute majority of them were Turkish (70%). Among them are localization studio 23 Studios, investor Boğaziçi Ventures, developer of casual games UDO Games and many others.
As for the guests who visited connect directly, most of them are top managers (63%). There were significantly fewer business development specialists and technical specialists directly (18% and 15%, respectively).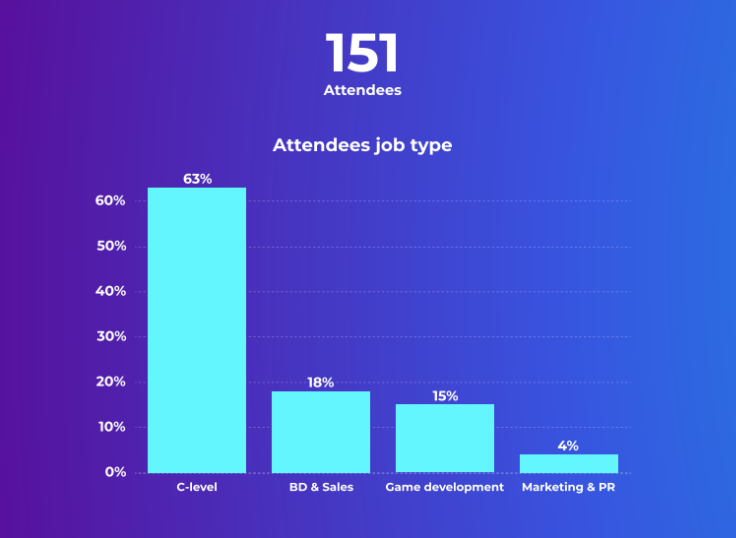 Distribution of guests by specialty
WN Connect is a meeting regularly held by WN Media Group for 100-150 people. The purpose of this series of events is to provide participants of the local game show with a platform for calm communication and exchange of experience.
By the way, the next Turkish event of WN Media Group will be held very soon. The WN CEO Summit will be held in Istanbul on September 20. Recall that this is a series of events focused on the top management of gaming and near-gaming companies. We wrote in detail about the summit in August.
Below are some photos from WN Connect Istanbul'23.