At the end of March, after five years of development, the indie game Gripper was launched. We talked to Kirill Zolovkin, the head of the project and the founder of the Heart Core studio, about its marketing, the road to release and current challenges.
The main art for the final version of Gripper
Alexander Semenov, Editor-in-Chief of App2Top:Hi ! I'll start with congratulations. Five years is a long road. What are the expectations, given vishlist and marketing?
Kirill Zolovkin
Kirill Zolovkin, founder of the Heart Core studio: I will say this: expectations were MUCH higher. But it's not evening yet. We are hastily correcting the balance, introducing difficulty levels.
Unfortunately, Haight arrived precisely because of excessive complexity and insufficient feedback. Over the years, I've gotten used to having to try to pass the first boss 15 times. But the players voted against this approach. As an experienced designer, it hurts me to realize that the grades are reduced for the design. We will try to fix it.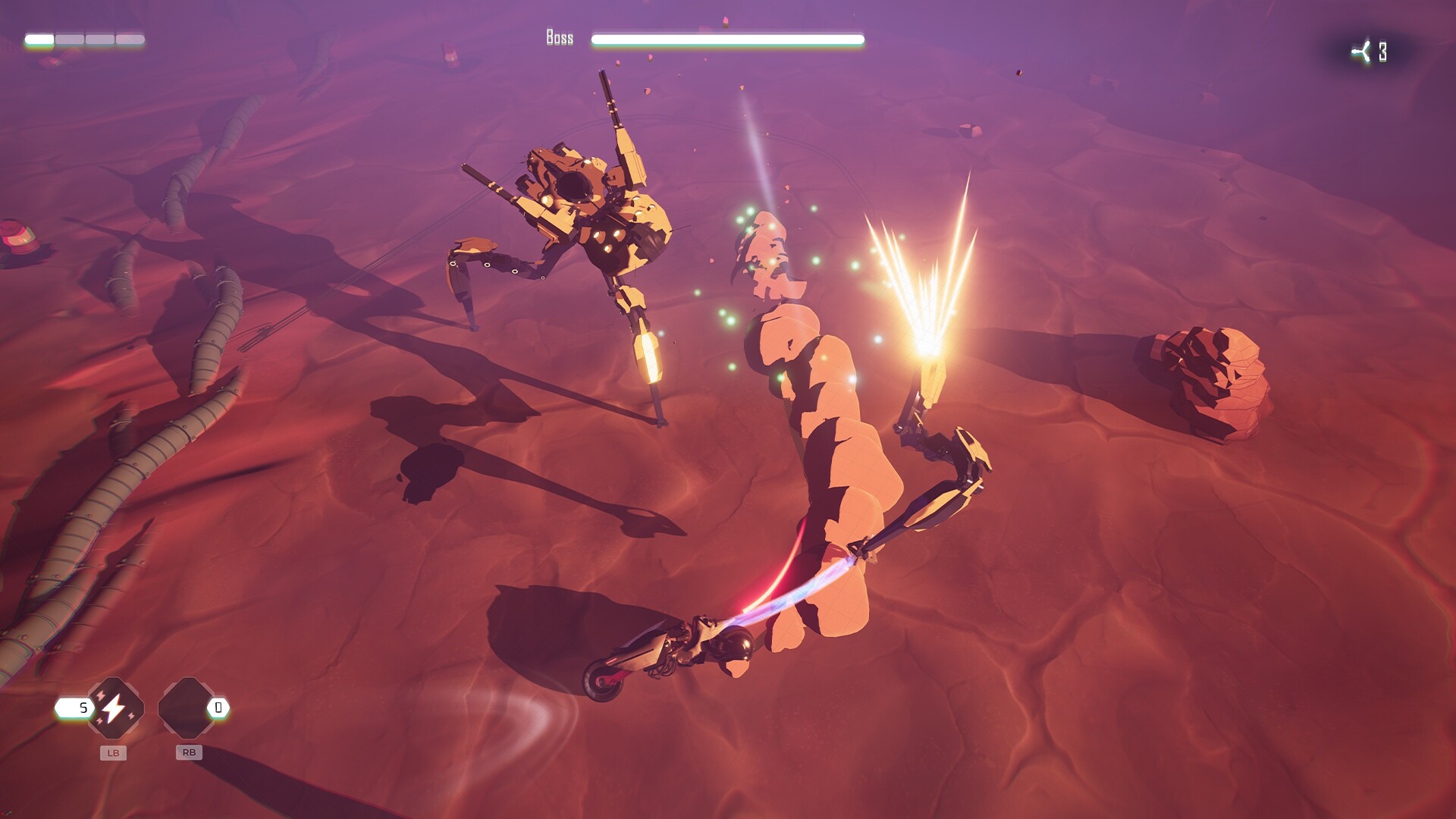 Screenshot from the final version of Gripper
Your Heart Core studio publishes the project independently. And not only on PC, but also on Switch. Why did you decide to stop at such a scenario, why did you refuse to work with the publisher?
Kirill: We negotiated with a good dozen publishers, but we were not ready to go with all of them, and some were not ready to go with us.
The closer the game came to release, the more was done with their own hands. We set up work with marketing agencies ourselves, went to conferences ourselves, made trailers ourselves, localized ourselves into 15 languages, and also carried out voiceover in English and Japanese.
At some point, we realized that publishers had nothing more to offer us.
It is a difficult task to go out on your own at the same time on several sites at once.
Kirill: In our case, with a completely terrible volume of tasks.
Have you launched at five sites at once?
Kirill: Yes, on PC on Steam, Epic, GOG, Humble.
And then there was Nintendo?
Kirill: Yes. And it's not easy with her. Launching on Nintendo in five regions means working with five different offices.
And what are your impressions?
Kirill: Look, the longest negotiations are with consoles.
The most pleasant thing was to communicate with NVIDIA and GOG.
Screenshot from the final version of Gripper
Not the release, but the communication led to something?
Kirill: Yes, of course!
I consider it a personal achievement to feature in the main broadcast of Steam Next Fest and a banner on the main GOG.
A personal defeat is only a small feathering on Epic's Twitter, although we received their grant.
It's also a shame that only Nintendo Japan supported the quote in the news. We were aiming to participate in Direct.
Earlier in an interview, you mentioned that there were plans to negotiate with British-American and Asian agencies in order to cover major publications like IGN, Eurogamer, Kotaku.
Kirill: Yes, we eventually delegated marketing in the USA and Europe to the UberStrategist agency, worked with Ukiyo in Japan and Arcus Key in China.
Logistics with agencies took a lot of time. However, both IGN, Eurogamer, and Kotaku have written about us.
And what about the results?
Kirill: I am somewhat disappointed by the influence of the press on the vishlist. Festivals and streamers give much more. However, it's nice when you come to a conference somewhere in Taipei, and they recognize you there.
Good marketing for PC games – how expensive is it?
Kirill: At least 25% of the game budget. I can't imagine less. More is easy.
There is no point in doing an advertising campaign for less than $4000 (or it will be some kind of indie creative, which can be done for free).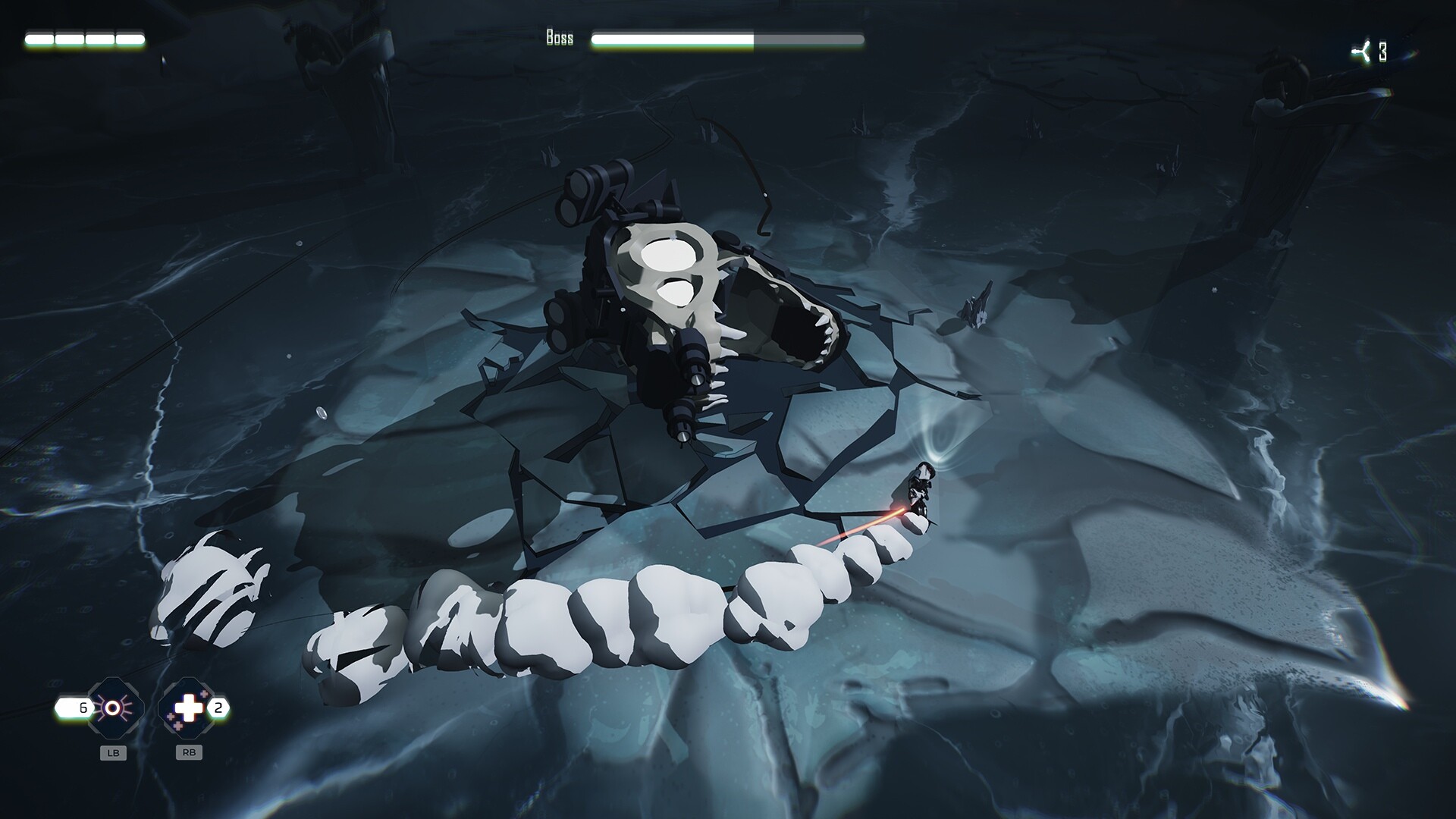 Screenshot from the final version of Gripper
How much does such work make sense when promoting indie at all?
Kirill: For indie, it seems to me that the choice of genre and understanding of the niche, getting into the tops of festivals, organic views from YouTubers, the ability to work with Reddit and TikTok, building a local community and multiplying it into something global is much more important.
I'm referring to the question of which traffic sources are working?
Kirill: If we talk exclusively about the PC, then they are the best here:
festivals (especially Next Fest);
large target streamers on Twitch;
broadcast on the main Steam;
sales and bundles.
Speaking of marketing, you and I are far away from Gripper. Let's talk about the challenges you faced at launch.
Kirill: Go ahead.
The game is from a galaxy of projects that can be attributed to hard to skill. Simply put, it has a high entry threshold. Are there any concerns about sales in this regard?
Kirill: There are, and they are confirmed: a mixture of genres + a high entry threshold + a difficult new mechanics at the core — all these are funnels.
From the point of view of experience, I would no longer undertake to combine races and boss fights in one project, in which a hook is involved. There are no references of such combinations. And it is clear why — this is an incredible risk.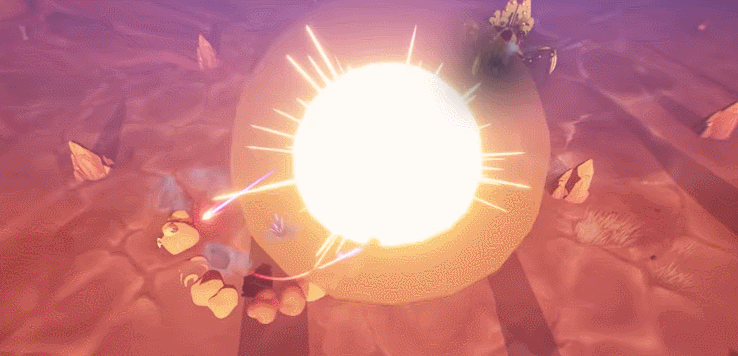 Gripper Gameplay
Curious. At the same time, I'm sure you understood this before the release. The game had a prologue on Steam in August 2020. Judging by the screenshots, it was very significantly different from the release version. Have you tried to simplify the project?
Kirill: No, another factor played here. After the launch of the prologue, a new team gathered, which did not fall into the old art style.
There were many times fewer artists, it was difficult to produce content in the old way, without including the old art lead.
CTO is also not changed at the crossing, but we had to.
Finally, we wanted to show the hero, before that he was not visible, he seemed to be sitting in a typewriter.
The scale of the necessary work grew like a snowball, the Bern-rate burned with a blue flame, we did not have time to produce many features in proper quality, we had to abandon them. For example, from research levels.
And, as far as I know, this is not the first time the project has changed seriously. How many times have I had to start developing a game from scratch?
Kirill: Three times:
at first, 2d on GameMaker turned into a 3d plot (ambitions played here — to do the impossible on the engine for schoolchildren);
then GameMaker was changed to Unreal;
then the game was rewritten almost from scratch when they started with a new team (introduced new bike physics, new boss logic, new locations, new heroes, made facial animations).
What prevented you from saying to yourself "stop" at any of the stages, they say, the vertical slice is ready, let's sketch the content in the release?
Kirill: The very prologue that was released on Steam was just a vertical slice.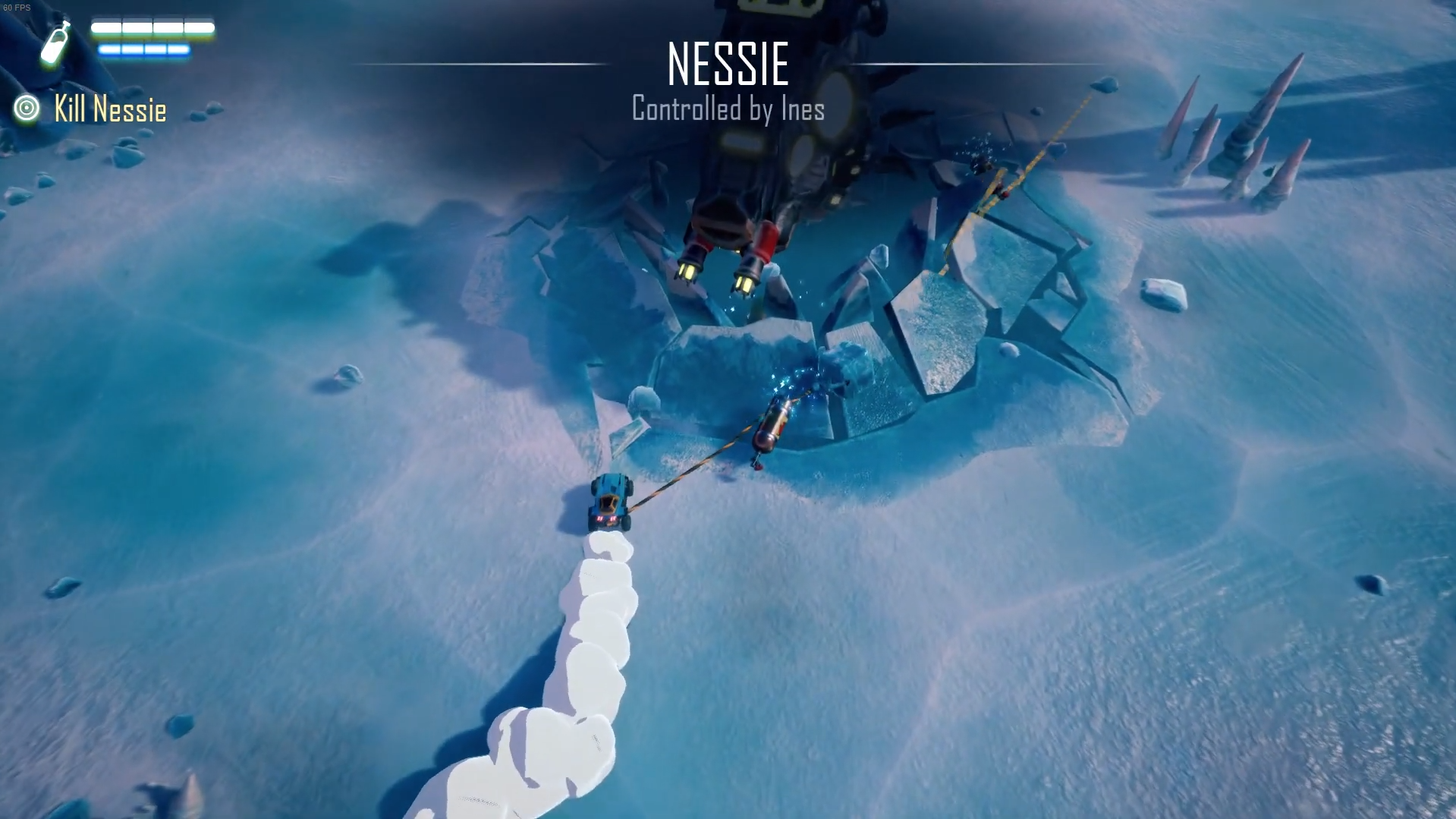 Gameplay Gripper: Prologue
The current game?
Kirill: Not really.
They are writing to me now, complaining that I killed the original idea. It was heartfelt, about dad and mom, a deaf sister on a farm. Incoherent, of course, not about rage and not about battles — rather, about a stop in the desert. Her script required unrealistic polishing time. Almost like Zelda in an open post-pop world.
You can pull such a scale only by painting and planning the whole game from and to. We wrote the flow and made almost all the graphics, but there were still a lot of white spots and clumsy bossfights in the script. At the same time, the former team was no longer there — My.Games bought it.
How difficult everything is. Let's stop at this point. They were talking, like, about an indie game and then My.Games came from somewhere. How did it happen?
Kirill: Gripper was originally an author's game about my personal loss, but the IP did not belong to me. Legally, I was just an employee of the company that created this game.
When the pandemic started, the investor got nervous, the team together with me outsourced to Wargaming, and then My.Games bought it out, making it part of the Allods Team. So I became an ordinary employee of My.Games.
The most insulting thing at that time was to see questions in the general chat: "What's wrong with Gripper?" And the response of the division director: "Gripper… Is this some kind of race?" Perhaps the answer really hurt me, made me, gritting my teeth, promise myself: "I will do everything to bring the game back in memory of Mom."
Editor's note: after Kirill lost his mother a few years ago, he set out to tell a story about relatives "smiling at us through death" as part of the game. Actually, Gripper is dedicated to this topic.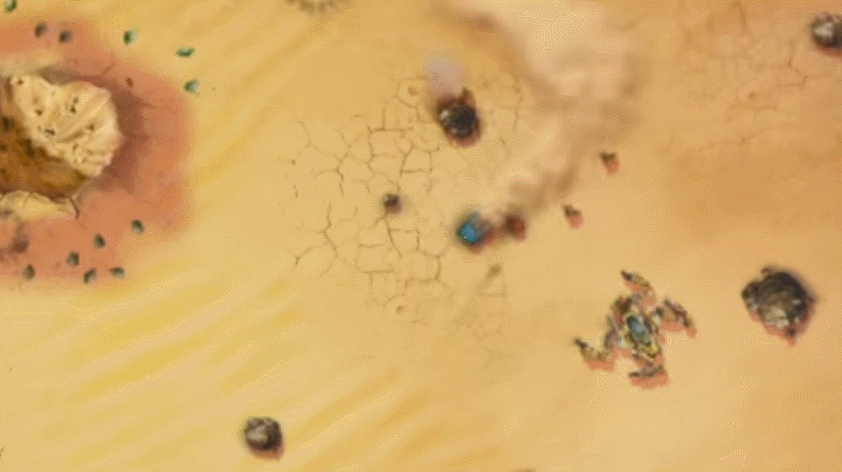 Gripper on GameMaker
Here you have worked with an investor, worked with Wargaming, at some stage you found yourself under the wing of My.Games, and now you are already steering the studios as a big boss. When was it most comfortable?
Kirill: It was most comfortable in My.Games: insurance, work-life balance, the work of a senior game designer with a minimum, as it seems now, responsibility.
The most interesting thing is now. Although, starting to build a company, I dreamed of something else: calmly design soulful games about the main thing. It's funny that Bagratuni, the author of Atomic Heart, then offered me the position of lead designer. I refused, citing a desire to make my own game in my company. He also warned me: there will be a hundred times more tasks. I didn't believe it then.
For almost two years of the existence of Heart Core, I have been doing everything. Everything is like in the rapid from "On the Needle" or "Requiem for a Dream". First frame: Gripper pitch to the legendary producer of "Brother". Cat. In the newly rented St. Petersburg office, I turn tables from IKEA. Bam, and I'm already selling them. I'm looking for ways to get a level designer out of Ukraine. In Discord with a programmer from Krivoy Rog, I listen to sirens. I run along the frozen Neva after the divorce, and now there are colorful leaves on the screensaver of a new wedding. A hotel in Turkey, crossing the border with a cat without a passport, taking devkits in Bulgaria. In Uzbekistan, I find out that my brother was killed by a bomb fragment. Cat.
At Comic-Con in Los Angeles, I meet an actor from my favorite Ninja Turtles. Cat. Shuhei Yoshida, the legendary head of Sony, is playing Gripper on the other side of the world with an entire delegation. Laughs at jokes. The mechanic marvels at the combination, shakes his hand. A party at the top of a skyscraper in Singapore. I live with a Microsoft producer. I'm chewing at Condo Bukowski in California. In London, I go to the first office I come across to open a company. Flashback. Shocked, they handed out a bottle of whiskey with their father in Munich. I hug you and admit that I love you. I'm riding a horse on the bottom of a lake in Central Asia, I hear the noise of the dried-up Aral Sea (I passed it at school, back in Kazakhstan): "Touch me, and you will touch a dry burr…" I get bad press ratings from the USA. The good ones are from China. I receive a refusal in Schengen. I continue to live.
Cut, and back to the business interview. You also had to return the rights to the project from the investor. How difficult was this process? Didn't have to sell an apartment or a kidney?
Kirill: It was exciting and scary, but everything worked out. It's good that a person has two kidneys.
Art to Gripper
By the way, what have you learned specifically from the rights story for yourself?
Kirill: I was very afraid of losing Gripper, and therefore, choosing between him and people, I left many.
I learned that people are more expensive. That the biggest goal, even if you dream a lot, is weaker than the team. That talent is unreliable, and dedication is more accurate. That you need to be able to not give up somewhere. And somewhere – to let go and give in.
I extracted a small big life, the endless story of the hero: inside and out.
In the original Gripper, the hero tore out hearts with the voices of his relatives and put them in the jaws of the gate to assemble a choir and open the way home. What for? To get your voice back.
There is no such thing in the final version. But there are voices of those talents who believed in me, trusted me, with whom I was lucky enough to work on the project. The main thing that I have gained is my personal voice. And he confessed to them his love for those living with whom he had not spoken for many years.
How long did it take to develop the final version of the game directly?
Kirill: The last iteration with a new script, graphics and code took a year and a half of fulltime. Now I understand how it could have been faster. I began to appreciate pre-production more.
By the way, how much has the team itself changed? How many people were at the start, how many now?
Kirill: Five years ago, we started together with Seryozha Tkach, my friend and art director. At OctoBox Interactive, 35 people worked on the Gripper prologue at its peak.
Then we started from scratch with three. Now there are 30 people in the company, and this is a comfortable number. You can make Triple-I with 15 specialists, but everyone must be super professionals, not a single june. Perhaps Stray did this. Although who knows how many outsourcers there were?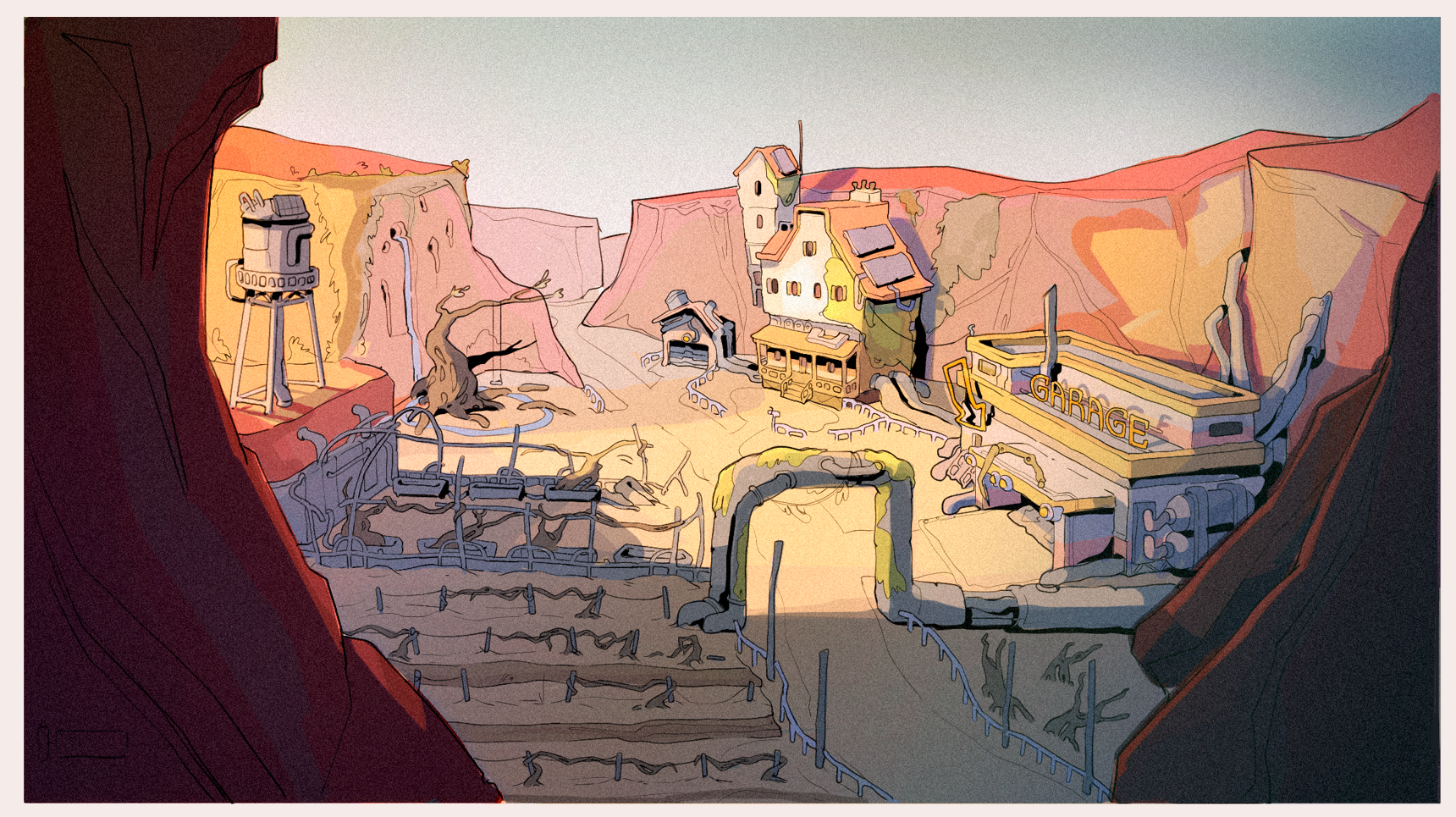 Art to Gripper
And is everyone in Uzbekistan now?
Kirill: Most of them are. But there are people from very different countries (USA, Latvia, Kazakhstan, Thailand, Kyrgyzstan) working remotely.
I think this is a topic for a separate conversation, but how much did the deployment to Tashkent help the studio?
Kirill: In Uzbekistan, life in general is much cheaper, and there are enough talents. Without them, we would hardly have decided on facial animation and cool cutscenes in Gripper.
I love the question about money, but it seems to me that now it is impossible to calculate how much finance was invested in the project. So I suggest answering a simpler question: how many copies of the game do I need to sell in order to recoup the current third-party investments and calmly take up the next game?
Kirill: We have already started the next game. However, I'm not a designer there anymore. This is a co-op horror for 4 players, where one does not see a monster — Do You See Sparky? As for spending, it would be unfair to my co-founders to call the numbers. Money is very serious for me.
By the way, about investments. You've pitched Gripper to investors dozens of times, if not hundreds, worked with them a lot, heard their suggestions. Actually, I wonder what was most often offered and what scheme did you come to yourself?
Kirill: The people who invested in Gripper did everything for him. I don't think I could have been more lucky in this matter. I am very grateful to them for the dream that has come true. These are not only visionaries in business, but also outstanding personalities who have the honor to learn from.
Alternative schemes were offered to me more than once, but everyone was without a soul: from "join the corporation" to "do with the money of the fund". I'm glad I didn't have to choose any of this.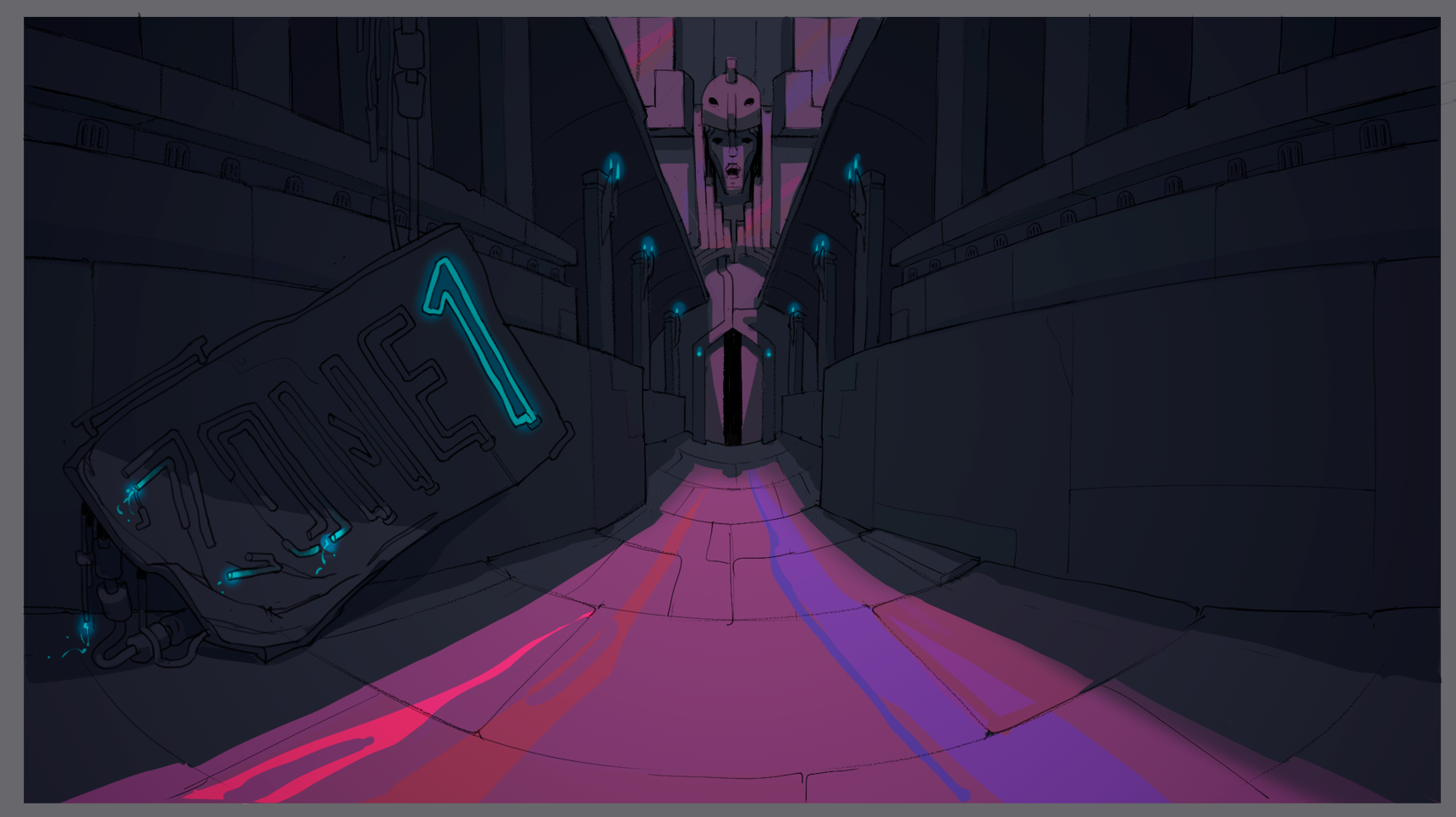 Art to Gripper
Smoothly steering to the end of the conversation: if you understood in 2018 what you had to do in the end, what to overcome, would you take it?
Kirill: No, I didn't understand, of course. Deaths, divorce, loss of IP, search for money, refund, moving to nowhere, a blow on the release from your favorite press, design errors. Here's to the crazy ones.
What are the main conclusions you have drawn for yourself from working on Gripper?
Kirill: When you commit to building a company, you need to know everything from the beginning. From accounting to logistics and law in different countries. And even more important — to be able to select people. You're not selling a game to strategists, but a team and a perspective. Publishers will come themselves when the game hits the audience. Building your business, you need to take responsibility for everything, take words and actions a hundred times more seriously. It is important to hold the punch and defend your idea. It is important to plan for years ahead. Do it qualitatively in your niche, but aim for more. Be able to think productively, communicate to the market, bring it to the end. I am ashamed of many things, except for one thing — I brought it.
Six years ago, we talked about how you did Steam Panic for seven years. Gripper turned out faster. How long to wait for the next game?
Kirill: After Magnum Opus, I want to take a break from personal games. I'll be back when the company is on its feet. When the bright future is clear. Now we need to learn to listen to someone else's flair and talent. Understand the needs of the audience, offer the right thing, be in demand and useful. And, of course, stop beating your own records on deadlines. Stop stuffing cones and collecting stones. It's time to tear and throw and scatter.
Yes, I can't help but add that Heart Core is now looking for a game designer with Unreal knowledge and a concept artist for a new project – Do you see Sparky?.