On March 28, the WN CEO Summit took place. This time it was held in the capital of Great Britain. It was attended by 100 high-ranking employees of gaming and IT companies from 15 countries of the world.
The summit was attended by representatives of companies such as Gram Games, Larian Studious, Miniclip, Paramount, Playrix, Unity, TikTok and many others. A total of 94 companies.
By tradition, the first part of the event was held in a fashionable restaurant (this time at the Tramp Club, which has been operating for more than 50 years). The second was on a ship (in this case, cruising along the Thames).
In addition to networking, there were closed discussions at the event — "round tables". This is also a traditional format for the WN CEO Summit. It allows participants to exchange opinions and insights on a particular topic without publicity.
This time there were the following round tables:
"Alternative Distribution methods: Challenges and Current Opportunities" — moderated by Ben Atherton, Director of Application Monetization at Meta (an organization banned in Russia);
"PR mood" – moderated by Jacki Vause, founder and CEO of Dimoso;
"Where to invest: the most interesting options" — Brett Krause, General Partner of Transcend Fund, was responsible for the round table;
"The Past and future of blockchain gaming" – Alexander Goldybin, Co—founder and Chairman of the Board of Directors of iLogos Game Studios;
"Cost, Privacy, Personalization – Game Optimization" — moderated by Abhishek Sen, Co-Founder and CEO of NumberEight;
"Building operational synergy in the holding structure" was moderated by Christopher Bergstresser, member of the Mogul Board of Directors.
Back to the numbers.
Most of the companies that participated in the London CEO Summit are engaged in development (40%). The predominant number of companies (93%) are European.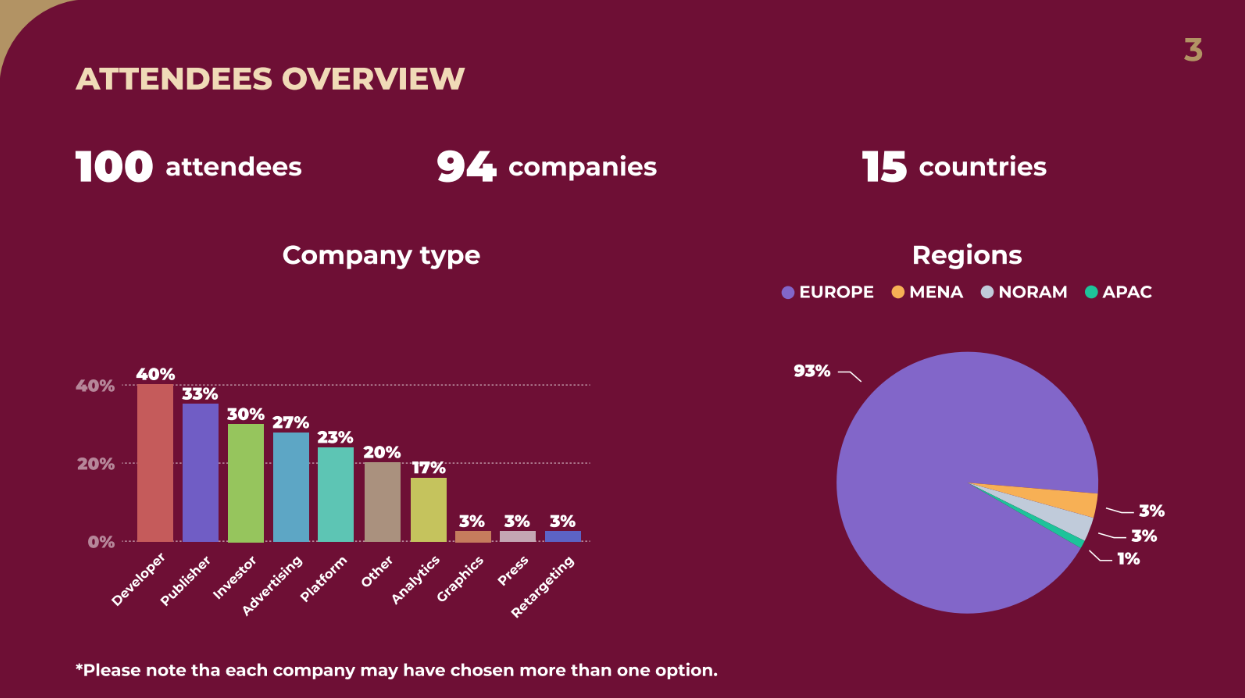 Recall that the WN CEO Summit is an event that is focused on owners, founders and CEOs of companies related to the video game market. He goes without the lecture part.
The first WN summit was held in Cyprus in 2018. The second one was in Barcelona a year later. After that, it was not held for more than two years due to covid restrictions. The current summit is the fourth in a row.